"Trying to reason with an addict is like trying to blow out a lightbulb."
~ Anne Lamott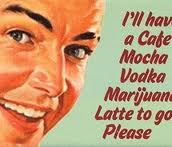 Many magical traditions hold that you control a monster by speaking its name.
Alcohol
Drugs (Prescription and illicit)
Cigarettes
Sex
Porn
TV
Gambling
Shopping
Sugar
Food
Caffeine
Fitness
Body Image
Tattoos
Adrenaline
Control
Drama
Perfection
Video games
Internet
Facebook
Texting
Know anyone?
Addiction is a response to overwhelming emotions—such as fear, terror, pain and aloneness. People use addictive substances or behaviors to anesthetize pain, feel relaxed, calm themselves, feel alive, numb out pain, turn off a racing mind, hide from shame, or feel a sense of belonging. Addictions are used in an attempt to manage what feels out of control, missing, or very frightening. The journey of the addict is essentially a spiritual journey. It is a journey into Self to confront your greatest fears, your innermost demons. Few have the courage and perseverance to complete the journey.
Join us as we brave the beast of addiction – Friday, June 1st from 10 – 11 am pacific on Voiceamerica.com http://www.voiceamerica.com/show/2075/he-said-she-said.